By Brian Seddon, Surrey Area 3130
René Mouchotte came into a world at war and would meet his end in a subsequent conflict. Born on the 21st August 1914 into a wealthy Parisian family he grew into a handsome and active youth. With the delights of Paris at his doorstep his early years, like most young men, was a voyage of discovery. However the storm clouds were gathering in the shape of Adolf Hitler and Nazi Germany so like a lot of loyal Frenchman he volunteered for military service. Choosing the French Air Force, the Armée de l'Air, he initially went to Istres where, in 1936 he gained promotion to Corporal. He achieved his pilots' wings in February 1937 which was closely followed in April 1937 by a promotion to Sergeant. January 1939 saw a short transfer into the reserves but things changed dramatically on the outbreak of WW2.
Recalled in September 1939 his experience resulted in a posting to a training establishment at Salonde-Provence in the role of flying instructor. Desperate to join an active fighter squadron his pleas fell on deaf ears and he was then transferred to Oran in North West Algeria. Here he was expected to take part in a conversion programme to fly twin engine aeroplanes. Hitler's Blitzkreig launched on the 10th May 1940 quickly overwhelmed the French military and the British BEF and on June 22nd France signed an Armistice. Rene Mouchotte and his fellow pilots at Oran were ordered not to attempt escape to join up with Free French forces, the serviceable aircraft being placed under armed guard. Now under orders from the Vichy government the aircraft were rendered partly unserviceable by disablement of the propeller pitch controls.
Not to be thwarted in his ambition to get into combat Sergeant Mouchotte and 5 of his comrades hijacked a Caudron C449 Goeland twin engine aircraft. See photo. The take off, in RAF parlance, was extremely hairy due to the pitch controls not working but they managed to coax the plane north and west to Gibraltar and landed safely. Following debrief they agitated to be allowed to travel to England and continue the fight with the Free French forces then forming up. Passage was arranged in an armed Trawler of the Free French Navy successfully braving the Bay of Biscay and arriving intact on the shores of Blighty.
To the hard pressed RAF Mouchottes arrival as a trained pilot was a godsend and he was sent to Old Sarum and Sutton Bridge to convert to Hurricanes. His first posting was to 615 County of Surrey Squadron then stationed at Northolt in North West London. His log book reveals his first operational sortie was flown on 11th October 1940. The squadron changed stations in December 1940 taking up residence at RAF Kenley where 615 had been in the high summer of 1940. Rene's first aerial victory did not come until August of 1941 when he was credited with a share of downing a Ju 88 twin engine bomber.
The number of Free French pilots who managed to escape the clutches of the Nazis allowed RAF Fighter Command to raise number 340 Free French squadron at Turnhouse, (now Edinburgh International Airport,) and begin training on Spitfires. Rene Mouchotte joined them in November 1941 becoming a Flight Commander in February of the following year. Promotion again to Squadron Leader and command of 65 Squadron provided his next career progression. A highly unusual accolade as René became the first non British, non Commonwealth person to command an RAF Squadron. For his unflinching courage in the air coupled with his exemplary leadership gave rise to the award of the DFC on 1st September 1942.
His next move was to the famous Battle of Britain fighter station, Biggin Hill, and command of number 341 "Alsace" Free French Squadron. The Station Commander at this time was the renowned South African 'Ace' Group Captain Sailor Malan who during the Battle of Britain had formulated his 10 rules of Air Combat which were still found posted up in aircrew rooms in the Vietnam conflict.
One of the pieces of 'advice' offered to sprog pilots in these rules was "Get in – punch hard – get out". This spirit of attack filtered down to all the pilots of the Biggin Hill Wing. Experienced veterans of air combat Al Deere and Canadian Squadron Leader 'Jack' Charles with 611 Squadron both provided support for young pilots joining the Wing.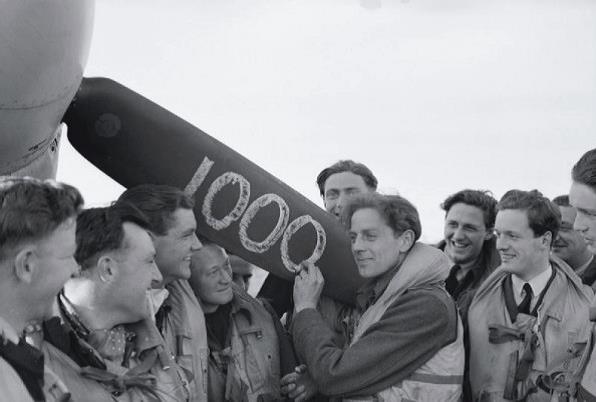 By this time in the war Biggin Hill's score of enemy aircraft shot down was approaching the magic total of 1,000 and all station personnel were gripped by which pilot would score the actual 1,000th destroyed. So much so that a round robin collection had assembled some £300, to be given to the pilot achieving the target. On 15th May 1943 the score stood at 997 when the Wing was scrambled in the afternoon for a sortie over Normandy. A celebration in the mess had been planned for that evening and some pilots feared the operation may cause them to miss out. Once over Normandy the FW 190's of 1/JG 2 rose to do battle and Squadron Leader Jack Charles dispatched two in quick succession while Rene Mouchotte bagged one.
Back at Biggin Hill and debrief the two pilots found it impossible time wise to determine which had downed Biggin Hill's 1,000th so in true gentlemanly fashion they shook hands declared the contest a dead heat and shared the prize money. The party in the mess went on with renewed fervour late into the night.
Rene Mouchotte continued to lead 341 Squadron throughout the summer of 1943 but the daily grind of combat operations was taking its toll. Today we know it as Battle Fatigue. His reactions were becoming slower and this is a dangerous condition for the rapid decision making required of a fighter pilot in combat. On the 27th August 1943 341 Squadron along with a USAAF P47 fighter squadron were detailed to provide cover for B-17 Flying Fortresses on a daylight raid to bomb the Nazis secret V2 rocket preparation base the Blockhouse d'Eperlecques in northern France. Once again it was the FW 190's of JG 2 that challenged the incursion and this time Rene's luck ran out. Pierre Closterman in his book "The Big Show" tells the last radio message broadcast by Rene was the descriptive "I am alone". Closterman makes the observation that it was a hell of a position for a Squadron Leader to be in over enemy territory.
René Mouchotte went down somewhere in the English Channel but it was not until several days later that his body was washed ashore on the Belgian coast and was buried at Middelkerke cemetery in Belgium.
Post war his relatives sought to reclaim his body for reburial in the family plot in Paris. On 3rd November 1949 after a memorial service at Les Invalides with full military honours René Mouchotte was finally laid to rest.
For readers wishing to find out more of Commandant Mouchottes activities as a pilot in WW2 you might seek out a copy of "The Mouchotte Diaries".
Footnote:- Squadron Leader Jack Charles returned to his native Canada post war and suffered increasing mental health issues bought on most likely by the stress of his wartime combat missions. He died in Vancouver on 5th November 1986.