It's been a funny old year! The famous adage is 'Always expect the unexpected' and never before could this be more appropriate as people in countries and continents have been split by opposing views. We really didn't see the EU referendum going in favour of leaving the EU and, several months ago, who would have guessed that a man with no experience of government would win a Presidential election. Even our little club had a bit of an unexpected split in opinions this year which we all hope will soon heal and we become one family again. As we close 2016 and another year of enjoying our precious, and increasingly valuable, vehicles, we must hope for a brighter and more predictable New Year, with less of the stress and disruptions that we have seen lately. In the meantime, be careful out there.
Allan Ede
Inactive registration records
Some people have gained the impression from DVLA that inactive registration records are in some circumstances deleted. The Agency has made it clear that inactive records are not deleted but, it is believed, there exists some archive files within DVLA to which long-term inactive records may be transferred.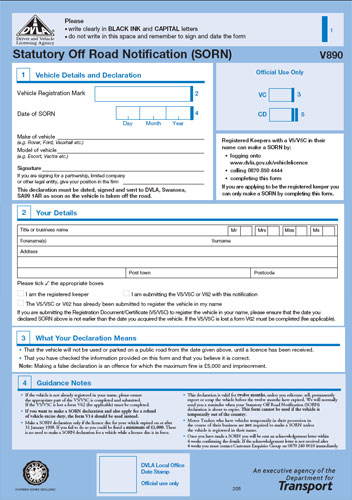 Continuous Insurance Enforcement
The DVLA has provided an up to date explanation of how the Continuous Insurance Enforcement (CIE) system operates, which is particularly important, and a reminder, for owners of historic vehicles where the vehicle is off the road for long periods.
Uninsured vehicles are identified by comparing DVLA records against those held on the Motor Insurance Database (MID) and once they are identified CIE places a strong emphasis on compliance (getting people to do what the law requires).
First the Motor Insurers' Bureau (MIB who are responsible for MID) sends them an Insurance Advisory Letter (IAL). This letter is a warning and sets out the keeper's options:
1. Insure the vehicle
2. Contact their insurer, if they have insurance to find out why there is no record on the MID.
3. If they are no longer the keeper, notify DVLA,
4. Make a SORN declaration.
In addition to these four options listed in the IAL there is also a possibility that the vehicle has been destroyed in which case that should similarly be informed to DVLA.
If the registered keeper does nothing, DVLA will take enforcement action and issue a Fixed Penalty Notice (FPN). If the FPN is not paid, Court action is an option. However, the FPN gives customers the chance to dispute the FPN for reasons such as insurance being in place, the vehicle having been disposed of or a Statutory Off Road Notification (SORN) having been declared for the vehicle. Disputes are investigated by enforcement clerks to establish if there has been any error on the part of the insurer (failure to update the MID, or a MID entry with the incorrect registration number assigned) or a delay in processing a SORN or disposal notification within DVLA. Where it is established the keeper acted to ensure the vehicle is complaint with CIE prior to the FPN issue, the case is closed and the keeper will hear no more on the matter. The key point to remember is that the IAL is an important document and should you receive one it is necessary to take the appropriate action. It is easy to check free of charge if a vehicle is on the MID at http://ownvehicle.askmid.com/ You should also ask your broker or insurer specifically about the MID.
Number plates and Chassis Numbers
Black and white/silver registration plates are permitted on vehicles that are now linked to the historic tax class, that is, 40 years old, so vehicles manufactured before 1 January 1976 are permitted to use black and white plates. However, it appears that this revision to the Regulations has not yet reached the MoT Testers Manual where the cut-off date is still quoted as 1 January 1973. DVSA have said that the manual will be revised ASAP but until it is the MoT status of vehicles manufactured between 1 January 1973 and 1 January 1976 which are fitted with black and white/silver plates will need to be established in each case and explained to an individual tester.
Another problem that has occurred with the online MoT system in that it won't accept non-alpha/numeric characters (eg: /, *, \ etc). DVSA has said it is aware of the problem and that if the tester entered the chassis number without the non-alpha/numeric characters the system would simply search and find a match. Hopefully! However, a recent reported instance is where the tester did just that and satisfactorily completed the test but the vehicle keeper later received a letter from DVLA querying the discrepancy between the chassis number on their record and that recorded by the MoT tester. Maybe the DVSA will look at this problem again.
EU LEGISLATION – AFTER THE REFERENDUM
The Federation's Bob Owen has reported in their newsletter on the potential future of EU Legislation and Policies following the June Referendum and how it may affect us. I think the bottom line is that the laws that have been laid will remain and absorbed into UK legislation and future EU legislation will only be accepted if the UK Government agrees to it. I have copied his report in full below as I couldn't re-word it any better.
'Before you read this, remember it is about legislation, and whatever your Leave or Remain view, keep calm!
I think some explanation may be useful. Nothing has changed. There have been no changes to legislation. The referendum is close in effect to a General Election; it decides the policy the Government should follow.
Let's starSo, the United Kingdom is at present a member of the EU and subject to all its laws and regulations. We must 'resign' (presumably by invoking Article 50 of the Lisbon Treaty) and even then, resignation will take time. As yet, we are at the early stages of the establishment of Government policy on how to engineer withdrawal from the EU. This could affect the areas of interest of the Federation; a decision to seek continued membership of the Single Market could mean a large proportion of laws remain unchanged. Alternatively, a decision to go for a less structured free trade regime would provide more freedom for the removal of EU laws.
What is certain is that traffic laws and, those relating to historic vehicles, will have little or no influence on how these decisions are taken or what they are. t with the things which do not need to change at all. First and most important is the registration system. It is national, set up and operated by the UK Government for Great Britain (England Wales and Scotland) and by the Government of Northern Ireland for Northern Ireland. Both parts are largely operated by DVLA, though DV(NI) does the actual procedures in Northern Ireland, thus the registration systems do not need to be changed because of the referendum. This includes V765, Age Related, Reconstructed Classics etc.
Low Emission Zones and Ultra Low Emission Zones are already wholly devolved to local authorities. While over the coming years the sources of data which local authorities use to reach their decisions might change, it seems unlikely the science of either climate change or the effect on public health of diesel emissions will change so much that these local authorities will cease to wish gradually to impose constraints on motor traffic in urban areas. The Federation will continue to work, as it has successfully so far, to maximise the level of exemption which can be obtained for historic vehicles.
Generally, things which are affected by EU law may or may not change. Where EU law currently covers a matter which will still need control in the UK, relevant UK laws may not be changed. As there will be an immense pressure on the Civil Service, and particularly on Parliamentary draughtsmen, to change those laws which do have to be changed, matters which are suitable for adoption without change will inevitably have a low priority.
Vehicle standards are partially affected by EU law. This will almost certainly effect the operations at least of DVSA over the coming period. We do not know how and it is pointless to speculate. The Federation will meet with challenges in this area which affect historic vehicles as they arise.
Chemicals remain wholly subject to the provisions of REACH. It is to be expected that the substance of these Regulations will remain in place though procedures would probably change. Redrafting is probably an unnecessary effort, as the need to control dangerous chemicals is such that they would only have to be replaced by something similar. It is possible that the introduction of new substances might be slowed in respect of the UK, and the Federation will be keeping a clear eye on any developments which could affect the keeping, sale maintenance or repair of historic vehicles, just as we have when it was an EU matter.
We know that many of you have over the years been involved in the export of vehicles into, and import of vehicles from, the EU. Almost certainly the formalities will change and become more extensive, but again we do not know and it is pointless to speculate.
The area which you will all be aware is currently being affected by EU legislation is Periodic Roadworthiness Testing. The Directives concerning this subject remain currently in force. The UK Government has been considering how exactly to incorporate the 2014 Directive into the laws of the United Kingdom. The directive was not seen as particularly contentious, so it may be that the Department for Transport will continue to work to adopt its terms into the laws of the United Kingdom. Or they may not. We do not know. The Federation has got itself ready to deal with the consultation we were expecting to be issued earlier this year, should it appear. But again, it may not. We will attempt to find out.
I trust these ramblings make things clearer as to the present position and the immediate future. If they do not, please do contact me on legislation@fbhvc.co.uk and I will try to explain more clearly any issue on which you feel unclear'. Bob Owen.
European Parliament Committee discusses the proposal to amend the Firearms Directive
The Federation was fully engaged through FIVA in EU matters right up to the date of the referendum, with the UK taking a particularly active part, for instance, in the discussions regarding control of firearms.
The European Parliament's Internal Market Committee members have had initial discussions on the 800+ amendments which have been tabled to the proposed amendment to the Firearms' Directive. Many take the view that deactivated weapons should not be covered by the Directive – this would address the concern of owners of historic military vehicles which have deactivated weapons attached to or as a part of the vehicle. Due to the large number of amendments and the Committee's desire to agree a clear position to facilitate later negotiations with the European Council and Member States, the vote on the amendments was postponed until July. We await further news