My first involvement with Military Vehicles was when I received a pedal Jeep for my birthday when I was 3 years old! From that moment I always wanted to own a real one. My opportunity came when I purchased one in 1970 for about £250. To be replaced by a much better condition Jeep from the Warnham War Museum in 1976, which I still own. It has been joined by a Chevrolet C8A HUP, and an ex-Australian Army Jeep. I joined IMPS in 1982, was 'persuaded' to become Treasurer in 1984, then Chairman in 1989, and followed by President in 1992. After 5 years I reverted to being just an ordinary member. My second stint commenced in April 2008.
My military vehicle interest started with the Kent Army Cadet Corps in the early 70's, being transported in Bedfords and Landrovers. Later I began military vehicle kit building where I met Tony Lawrence, James Baxter and Allan Ede. A trip in Tony and James's Jeeps to Duxford and Thruxton in 1980 started the real ache to own my own WW11 Jeep. I attended the first War and Peace shows at Tenterden as a guest/spectator.
Vice Chairman – Ross Savage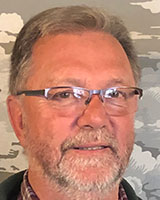 Having been a member of Imps for. 15 years I felt it was my turn to give something back to the club by becoming a committee member to help in what ever way I could to take the club forward in these changing times. My initial entry into green machines was via a Lightweight Land-rover, progressing to a Jeep, a Defender and a Minerva plus a number of assorted trailers and tents. I enjoy the social side of the club and particularly attending the many events. Lets keep the wheels and tracks turning.
I have always had a keen interest in WW2 military vehicles, and after spending many years mucking about with motorcycles and kit cars I finally bought my first military vehicle, a 1942 Daimler Dingo, shortly after joining the 43rd Recce Living History Group. I now use the Dingo for living history events around the South East and also in connection with events supporting WW2 Reconnaissance Corps veterans. My wife and I also own a 1940 Morris Commercial Compressor truck, and together with Andy Mitchell have just bought a pair of 1943 Daimler Mk 1 armoured cars to restore. I have been an IMPS member for 10 years and Surrey Area Secretary for 4 years.
Company Secretary – Andrew Partridge
I have been a member of IMPS since 1990 and Company Secretary, responsible for our public records at Companies House for most of the time since IMPS became a limited company in 2001. Since 1993 I have owned a Humber Heavy Utility, my only military vehicle.  I have been an active member of the Board and participant in the shows in past years and hope to be more active in the coming one."
Membership Secretary – Glynis Rosser
Many members may remember as I have previously done memberships for four years I had to give it up due to my health, I now feel better and I am enjoying what I am doing once again. I first became a member ten years ago after being invited with my husband to the W&P Show it was so friendly and my husband bought his first vehicle that was it we became hooked I did always say that I would not wear green even though many have tried to make me. I do enjoy the club I like the social side everyone seems friendly even though the main conversation is about vehicles. I would always recommend the club people as you don't have to own a vehicle to become part of it.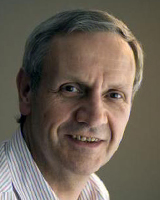 I have been interested in military vehicles for as long as I can remember and after living in Normandy during the 50th anniversary of D-Day celebrations, decided that one day I would have to have a Jeep. After being Jeepless at both the 60th and 70th celebrations (and a few in between), I finally achieved my ambition and now have a 1944 Willys. Having acquired a Jeep, it seemed sensible to join IMPS. In my short time with the society, I have met some terrific people and been made to feel very welcome, so I have every intention of being in Normandy in June 2019 with my many new friends – and my Jeep.
Events Secretary – Rex Cadman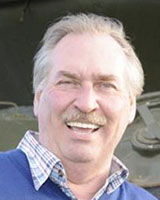 I have been an IMPS member many years and for several years I ran the War & Peace Revival Show at Beltring.
Publicity Officer & Webmaster
I am relatively new to the military vehicle scene going to my first War and Peace Revival in 2013 where I discovered what a great bunch of folks these enthusiasts were. I bought a jeep, joined IMPS and the rest, as they say, is history.
Newsletter Editor – Catherine Jaques-Fowler
I have been involved with the IMPS since 2005 after first visiting the W&P show as a "day tripper". My first purchase as many starting the hobby was a Landrover 109. My son at the time was 10 and became as enthusiastic as I was and loved the weekends away camping and riding in vehicles. Moving onwards from the Landrover I bought my beloved Jeep.  I work for a local newspaper as my day job, so when an opportunity arose to edit the IMPS newsletter it was a perfect way to get involved to a greater extent with the Club
Age Related Registrations – Tony Lawrence
I am the Liason Officer with DVLA , responsible for verifying the age of vehicles and registration and also liase with the Federation of Historic British Vehicle Clubs (FBHVC).
I also organise the IMPS end of the Pas de Calais Libere trip to Souchez each year in September.
Having joined the club in 1983 I have been Chairman twice, in 1992-97 and 2010 -14, so this appears to be my retirement post!
IMPRINT Editor – Mark Askew
I have been the editor of Imprint for the last 6 years and have been interested in Military Jeeps and Military Vehicles for well over 20 years now. I have also been a major Military Book and Manual seller for the past 15 years, as another part of my life. I attend most of the Mayor Military Show, so I can always been seen and talked to at these shows! If I can help members in anyway whatsoever, feel free to contact me, either by phone on 01302 739000 (weekdays 9 am til 5pm) and I will reply as soon as I can!